Oswego Community Unit School District 308 Board met March 12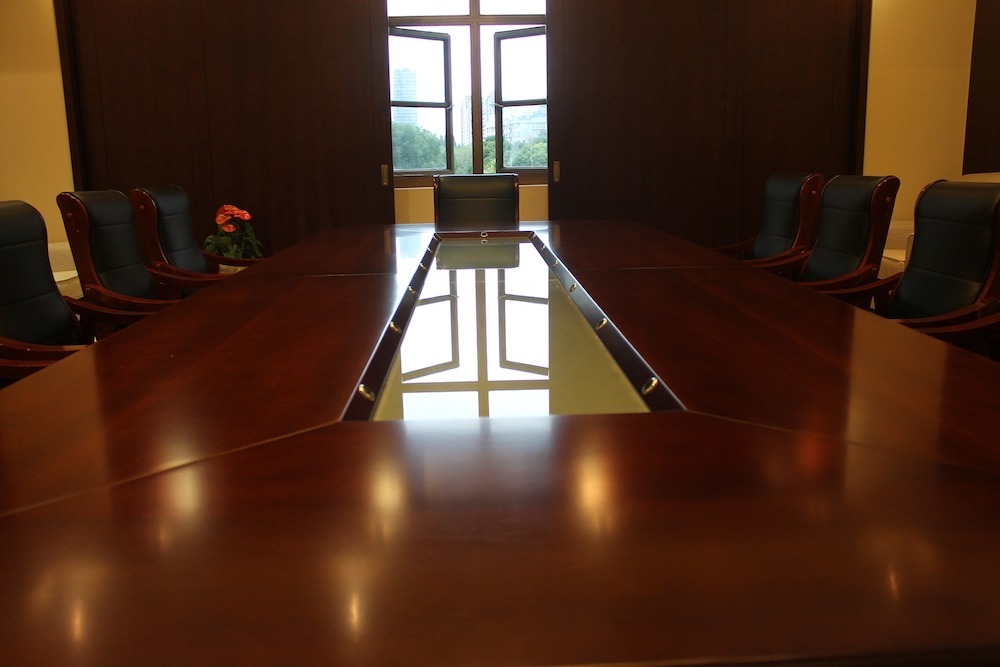 Oswego Community Unit School District 308 Board met March 12.
Here is the minutes as provided by the board:
1) Roll Call
Meeting called to order at 5:36 p.m. by Board of Education Member and Committee Co-Chair
Toni Morgan.
Instead of roll call, the sign in sheet was used for attendance purposes.
Members in Attendance:
Damaris Abella, Seeta Bala, Cyndy Conlee, Kirsten Coulman, Margaret Darnell, Anne
Elwood, Etiennette Harris, Amanda Olson, Valerie Patterson, Dawn Saldano
Dr. Lisa L. Smith, Associate Superintendent for Educational Services
Board Member and Co-Chair Toni Morgan
Others in Attendance
Maureen Lemon, Ottosen Britz Kelly Cooper Gilbert & DiNolfo, Ltd.
Members Absent: Matt Bauman, Board Member and Co-Chair, Roxana Sanders
Recording Secretary: Cindi Krachtus
2) Approval of January 22, 2018 minutes
• Indicated that Kirsten Coulman's first name was spelled wrong in the motion to adjourn.
• Motion was made by Toni Morgan to approve the meeting minutes from January
22, 2018; seconded by Kirsten Coulman and Etiennette Harris; all were in favor.
Discussion had regarding Valerie Patterson, Executive Director of Student Services, replacing
Jamie Max, Director of High School Education, as a committee member. Toni Morgan verified
with Matt Bauman via text message that he was in agreement with this change.
3) Section 2 (School Board)
a) 2:260 Uniform Grievance Procedure (Policy Requirements of PA 100-554) (PRESS)
• Updates related to processes for students filing complaints
• Policy to include cyber-bullying language
• Allegations involving the Superintendent have been added
• Title 9 involves gender
• Accept changes as indicated
4) Section 4 (Operational Services)
a) 4:25 Use of Illinois County School Facility Occupation Tax Receipts (Proposed/New)
• Board requested a policy be in place in anticipation of the county sales tax being
passed and what the district would do with the income from said taxes
• Half of all receipts would go into capital project fund/half to pay off bonds
• The board would still need to vote after the sales tax was passed and other districts
around us would also have to agree since it is a county-wide sales tax (Kendall
County)
• Accept changes as indicated
b) 4:40 Operational Services (PRESS)
• Third paragraph indicates "Superintendent" – needs to be changed to Assistant
Superintendent for Business Services
• Additional language under Bond Issue Obligation has been updated by PRESS to
reflect board's obligation to be in compliance with Federal Security laws
• The Business Offices is being indicated as that is the office that handles these
matters here in our district
• Accept changes as indicated
5) Section 5 (General Personnel)
a) 5:20 Workplace Harassment Prohibited (Policy Requirements of PA 100-554 (PRESS)
• With the changes indicated to Policy 5:20, the Board is required to act on a
Resolution (5:20E)
• Add "Oswego" to header
• Page 2 – In the first red section, "…if a claim is report"….change "report" to
reported
• Legal Ref: after "Ethics Act"….space after "5" before "ILCS"
• Legal citation in Retaliation Prohibited on page 3….space after "ILCS" and before "5"
• Accept changes as indicated
i) Resolution to Establish Policy Prohibiting Sexual Harassment (5:20E)
• This is an exhibit, which is not always shared with this committee
• The Board resolves to establish a policy updated with current language, based
on new law effected January 2018
• At the Board's second reading, this resolution will be passed with the policy
separately from the other policies
• Accept changes as indicated
b) 5:200 Terms and Conditions of Employment and Dismissal (Language; Legal Reference)
• School social workers and school psychologist services – it is not new, but
reorganized in school code (PA 100-356)
• Indicates that they cannot service students who live within our district boundaries
(moonlighting)
• In legal citation on first line, add "5/14-1.09" before "5/14-1.09a"
• Accept changes as indicated
6) Section 6 (Instruction)
a) 6:50 School Wellness
• Policy 6:60 was reviewed in the last group of policies with this committee
• Bullet under Goals for Physical Activity – change "Assistant Superintendent for
Business Services" to Assistant Superintendent for Educational Services
• If change PE from 5-days-a-week to 3, would need to make a recommendation to
the board
• Page 2 refers to exempted fund raising days (foods that don't meet nutritional
requirements) can be sold at the high school only during the day with certain
restrictions
• Question was asked regarding healthy eating in the schools during lunch
periods where the students are bringing in 2 liters, Monster drinks, etc.,
• Not illegal drugs under a certain age
• Policy 7:190 can be referenced
• Communication first with parents of concern and parameters being
imposed
• Question asked regarding junior high selling suckers, candygrams and candy
bars and if those will be taken away?
• ISBE has specific criteria to reference (snacks under 200 calories,
etc.)
• Administrative procedures for the competitive foods will be looked
at closer and this area will be better defined
• Pull this policy and bring back to the committee with more clear background and
information
7) Review of Student Rights and Responsibilities Code
• Minor changes this year
• Legal requirements or board of education requirements
• SB100 the Fall of 2016 was a big update year to the handbook
• Section III – Student Records
• ISSRA changed from 15 school days to inspect records to 10 days
• Section VIII – Student Discipline
• New wording with regard to student dress has been added and the old
language has been removed
• Gender neutral dress code language
• Stick with the body part, not the clothing
• Discussion with regard to "non-see through material" and whether that is
necessary
• Change to "non-transparent material and solidly covered"
• Add at top by the other reference to policy: "Reference Policy 7:160
Student Appearance"
• B. Gross Misconducted
• This area was just moved in the Code
• Renumbering corrections
• Weapons
• Expulsion requirement was discussed and alternatives to expelling students
• Spell out "two" two-years
• The paragraph under B was moved to under No. 15 "Expulsions"
• Board of Education changed user fees for clubs and athletic fees, so No. 6
"Payment of Fees" was added to clarify that there are fees but it is not defined here
in the Code.
• Add: "Please contact the business office for assistance and/or information
for payment plans."
8) Public Comment (2 minutes each)
There was no public comment.
9) Adjourn
A motion was made by Toni Morgan to adjourn the meeting at 6:59 p.m. and seconded to by
Margaret Darnell; all were in favor.
Next Meeting: Monday, May 7, 2018
https://www.sd308.org/site/handlers/filedownload.ashx?moduleinstanceid=9953&dataid=47841&FileName=PolicyMinutes.03.12.18.FINAL.pdf
Want to get notified whenever we write about
Oswego Community Unit School District 308 Board
?
Next time we write about Oswego Community Unit School District 308 Board, we'll email you a link to the story. You may edit your settings or unsubscribe at any time.
Sign-up for Alerts
Organizations in this Story
Oswego Community Unit School District 308 Board
More News